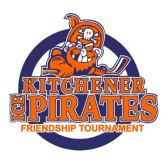 We are super excited to have the chance to return to the Kitchener Ice Pirates Friendship Invitational tournament again this year! We hope lots of Condors will join us Feb 15, 16, & 17 in Kitchener!
Each team is guaranteed 3 games with most games taking place on Saturday and Sunday between the hours of 8am and 5pm. There will be a Coaches game Friday evening that we are welcome to attend if we're already in town.
The tournament party will take place at Bingeman's again on Saturday evening from 6pm till? Players and coaches are free, all others are $20 each. Tickets must be reserved in advance.
Tournament deposit will be $50 per family and must be paid no later than December 1, 2018 after which time deposits will not be returned.
The team hotel is the Courtyard in St. Jacob's (about 15 minutes from the rink!):
Courtyard Waterloo St. Jacobs
50 Benjamin Rd
Waterloo, ON, N2V 2J9
Capital City Condors
Start date: 2/15/19
End date: 2/17/19
Last day to book: 1/18/19
Marriott hotel(s) offering your special group rate:
Courtyard Waterloo St. Jacobs for 144.00 CAD per night
Book your group rate for Capital City Condors
Bookings