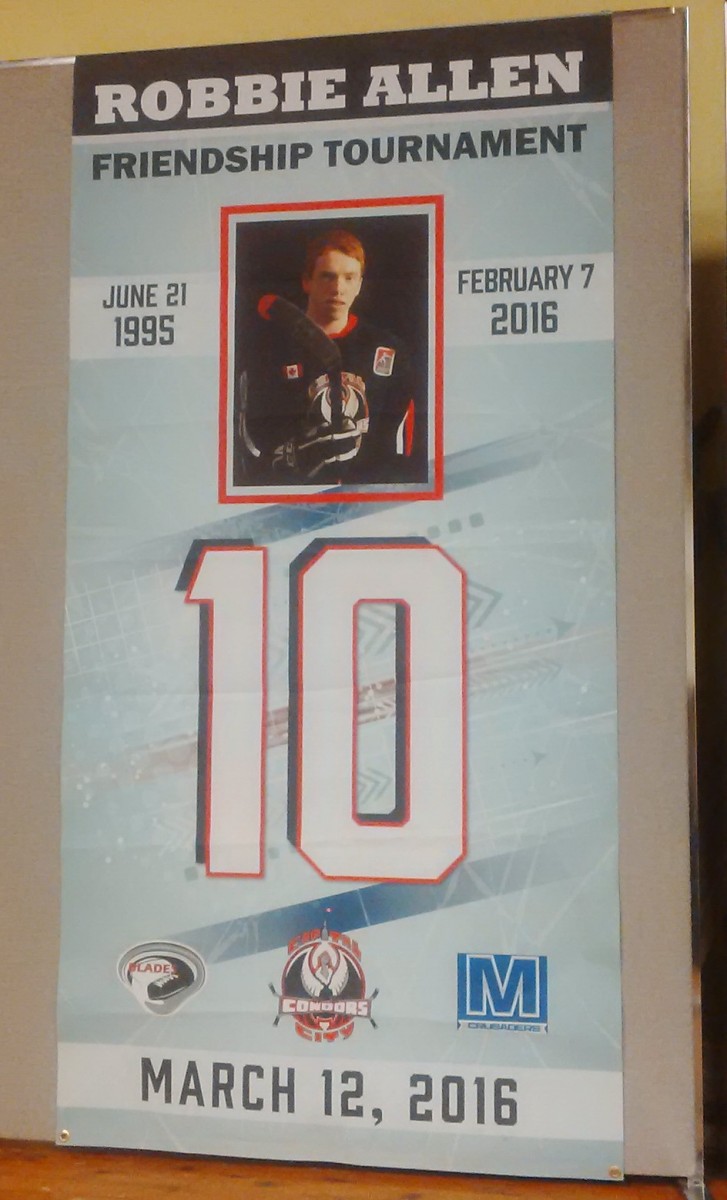 This tournament is being co-hosted by The Blades and The Cambridge IceHounds in tribute to our dearly missed player, Robbie, who left us far too soon and is incredibly missed!
Games will be played between the Cambridge Sports Park and Galt Arena Gardens, both in easy proximity to each other.
Tournament hotel details: the Condors have a block of rooms at the Best Western Cambridge located at 730 Hespeler Rd. (right off Hwy 401). Phone: 519-623-4600
•rooms are a special rate of $125/night plus tax
•rooms contain two queen beds
•rate includes hot breakfast and use of the indoor pool and hot tub
•families should call and reserve their rooms no later than February 10, 2018.
•please indicate at the time of your reservation whether you want 1 night (16th or 17th) or 2 nights (16th & 17th)
•be sure to tell them you want to reserve a room(s) in the Capital City Condors block
Please sign-up by January 31st below.
Deposit is $25 per family, deposits are non-refundable as of November 30, 2017.
Here is the invite from The Blades:
"Our friendship tournament this year will be held on March 17th in Cambridge beginning at 3pm. We are joining efforts with the Cambridge Ice Hounds to provide a great experience and we hope that you will be able to attend with your Mixed, Jr and Intermediate teams.
We have 9 hours of ice booked between 3 ice pads so there should be some great hockey. Each team will play a minimum of 3 games and, if time and number of teams permits, a 

4th may

 be offered. 
The tournament fee will be $200/team and will include a common hospitality room at each arena, with snacks and beverages for all participants and families, swag bags and medals for all players. 
Currently we have 7 teams who have expressed interest in participating, 3 intermediate and 4 mixed/junior. We would welcome your participation and look forward to hearing from you. Those who have participated over the past two years have enjoyed the games and time spent together. 
This is our 3rd year convening this tournament. Robbie Allen was a player with the Capital City Condors and was loved by all who knew him. He was the epitome of what Special Hockey is all about!"