New Home Page
#BiggerThanHockey is more than just a hash tag… it's how we live.
Welcome to Condors Hockey!
Find out more!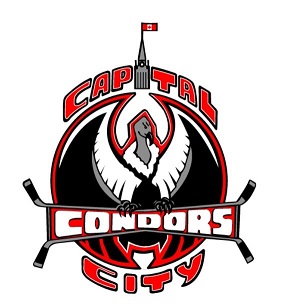 OUR VISION
The Capital City Condors are a family of ice hockey teams for those who are unable to play on any other hockey team due to a cognitive and/or physical disability. Players are ages 6 and up, of all ability levels and are each given a high degree of personal care and attention by the Condors on-ice coaches.
The Condors are all about inclusion. We are an adapted hockey team committed to creating opportunities for those with developmental, cognitive and cognitive+physical disabilities to develop their strength, hockey skills, sportsmanship and life skills while deepening their love of the game and their team.
#BiggerThanHockey | #MakingHockeyHappen | #ChooseInclusion | #HockeyIsForEveryone
Matthew has been with the Condors since the very first season and he loves being part of the team! He has come a long way in his skating ability and it's all due to the Condors coaches. What we love about the Condors is the inclusiveness and the desire to bring hockey to these kids and young adults who might not otherwise be able to participate.
Saturday practices with the Condors are the highlight of our fall/winter Saturday afternoons and then there are the other activities like summer ball hockey, banquets & parties and participation in tournaments.
The Condors are truly a great organization to be part of and Matthew loves every minute of it!
The Condors believe in full inclusion of all players regardless of their cognitive or physical ability. This is our daughter's first season with the Capital City Condors and she absolutely loves the program. It has made her dream of playing possible where it would not have otherwise been.
All hockey players have to pass and then shot pack in the net have to beat all teams
I love this team because I was on this team for 6 years.
We love the Condors because of inclusion & no judgement. We all come from different backgrounds but once we are at the rink, we become one. We become Condor. On the ice, the passion of the players takes over. I believe that our players show us more than just being a hockey player. They show us friendship to others, they show us a willingness to learn and a desire to have fun no matter the outcome. Our players are happy when everyone scores or makes s nice play to help a teammate out. They teach us that the game is so much more than hockey .
Interested in becoming a Condor?
Register now for the 2019/2020 season.
Want to help out?
Register to volunteer with the Condors on or off ice
Where we play in the West end…
Where we play in the East end…