Registration is now open for the 2nd Annual Condors Golf Classic!
Though it's cold and we are expecting snow, and the Senators season is in full swing, it's time to think CONDORS GOLF!!  The Condors have opened registration for the 2nd Annual Condors Classic golf tournament!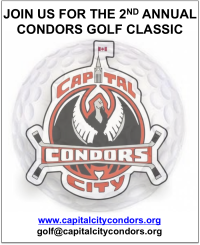 The event will be on June 3 at GreyHawk Golf Club and we hope to build on the success of last year's tournament.
You can find out more information and even register for the event online!
The Condors hope to see you out on the links this year for this special event!!
Looking to become a sponsor for this wonderful event? You can download the Sponsorship Information Package here.