Condors VIPs
A large part of the success of the Condors (and Blades) programs is due to those who work tirelessly behind the scenes taking care of all the day-to-day and special activities that round out who we are!
We are extremely grateful to the following folks, without whom, we wouldn't be who we are or do what we do with such excellence….
Lloyd Lewis, Condors Director of Coaching & Head Coach (retired)
It would be impossible to express all that Coach Lloyd means to the Condors organization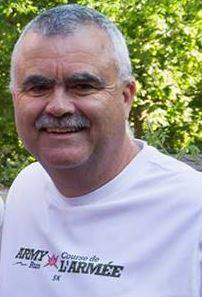 here in print, it would take pages and pages of text. Coach Lloyd has profoundly impacted the Condors organization as a whole and each and every player, their family, and volunteer with his huge heart, his compassion, his grace and love…not to mention his phenomenal teaching and coaching skills. Coach Lloyd has changed lives as he has taught players to skate who never thought they ever would, as he coached players to their first goal EVER and cried tears of joy with them and their parents at a thousand little successes along the way to that triumphal moment!
Coach Lloyd retired from an official position within the Condors organization in 2022 but can still be found assisting, teaching, and cheering the Condors on from the stands with his grandkids! We all love you, Lloyd, and we thank-you for everything you are and everything you've done for all of us. You are #foreveraCondor
Andrew Mackenzie, Web Master
Paul Saunders, Blades Ops Team Lead & Condors Liaison 
My foray into special hockey began in 2004 with meeting a very special person. What began as a simple question about what he was going to miss the most about his present community was answered by his 'hockey team'. Something he said resonated with me and when his family finally settled in Cambridge we had a conversation about the possibility of starting up a special needs hockey team here. Without a second passing, I said "I'm in, whatever I can do to help". 2006 saw the formation of the Cambridge Ice Hounds and we had the privilege of putting our money where our heart was and is, for the purchase of jerseys and equipment. Subsequently we donated whenever we could to support the team. I became a board member and was privileged to serve that team and watch it grow. A bus ride and weekend at the SHI tournament in Washington solidified my resolve to further assist with the team wherever it was needed. Subsequent SHI tournaments and fund raisers became automatic in prioritizing my schedule as a busy Realtor.
In 2012 I was approached by another family who wanted to see a team formed with a different emphasis and focus and The BLADES Hockey became a reality. From the get go we donated and sponsored for jersey's, ice time, special projects and events and have served on the Operations Team ever since. Taking on the role as Chair of the committee in Dec of 2015 brought with it many challenges and great opportunities to further advance the team. From scheduling to policy adaptation from our parent team The Capital City Condors, forming a hand book for easy reference to policy and procedures for our parents and assisting in organizing mini tournaments for our athletes, this has become my passion. An athlete I am not, never donned a hockey jersey until I became involved at the age of 54, yes I skated but never with any great skill, played pond hockey on the creeks of eastern Ontario with the local farm boys, but during school years you would have found me in the band room or in the vocal department. Don't know the rules of hockey to any great degree but passion for a cause carry's me through. The personal reward of providing opportunity for our very special athletes has given us purpose for our years. It is exciting to see how our involvement with Special Needs Hockey has spurred others on to the formation of teams and ultimately connections with players from the NHL like Matt Carkner, now Assistant Coach with the Islanders farm team, #7 Kyle Turris with the Sens (now #8 with the Nashville Predators), Patrick Wiercioch, now with the Colorado Avalanche and Hockey Canada.
Father of 3, Grandfather to 11, Great-grandfather to 6, husband to Melanie for 51 years (I think) and an active realtor with Royal LePage Crown Realty Services Inc in the Waterloo Region and surrounding communities since 1989. Weekends I can be found at the rink for practices or at tournaments with the amazing group of special athletes who continue to inspire me with their pure enthusiasm for belonging!