SHI 2015 Tournament Volunteers Needed!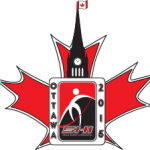 Hello Condors Family, Friends, and Community Members!
As you know, the Condors will be welcoming special hockey teams from around the world to Ottawa March 19-21, 2015! This is very exciting and we are thrilled to be hosting the Special Hockey International 2015 Tournament!
Any event like this doesn't just happen though, it is the product of a dedicated teams of volunteers playing a variety of roles to bring all the components together into a terrific tournament!
THIS is where all of you come in! We need volunteers….we need A LOT of volunteers! We have done our best to break-down the various tasks into 6 main categories:
1. Executive Committee (8 volunteers)
2. Hockey Operations (30 volunteers)
3. Ceremonies and Events (12+ volunteers)
4. Hosting (80-90 volunteers)
5. Sales, Marketing & Communications (10 volunteers)
6. Volunteer Coordination (4+ volunteers)
We've provided a more detailed explanation of what each committee will be responsible for below in order to help you decide where your interest(s) might fall:
Executive Committee:
Chair – Aaron Robinson
Committee Chairs (5)
Treasurer (1)
Secretary (1)
Arena/Hockey Operations
Chair (1)
Team Recruitment (2)
Team Groupings (1)
Schedule Development (1)
Rink Operations:
Arena Manager (6)
Ref Coordinator (1)
Timekeepers (16-24)
Team Ambassadors (TBD)
Ceremonies and Events
Chair (1)
Plan and Execute:
Opening Ceremony (2-4+)
Coaches Game (2-4)
Tournament Banquet (4-8+)
Invite dignitaries, diplomats, and other VIPs when necessary
Hosting
Chair (1)
International Team Coordinators (80-90)
Liaison with international teams
Match teams up with host/ambassador
Meet international teams at the airport, if necessary
Sales and Marketing
Chair (1)
Sponsorship Sales and fulfilment (4-6)
Signage, program, etc.
Website development (1)
Merchandising (2)
Communications (1)
Program Development and fulfilment
Fundraising
Volunteers
Chair (1)
Recruitment, Training, Coordination (2)
Communication (1)
Please take some time to read the list over, think about it, and then fill in our Volunteer Form below in which you can indicate the areas you'd be interested in helping out. Please remember that we will try to put you into the area(s) you select, but hope that you will be understanding and flexible if we need to ask you to help in another area instead.
*note* – We ask that you fill in the Volunteer Form once for each full spot you are volunteering for.  So if you have 2 people in your household who will be volunteering for 2 roles, please fill out the form once for each volunteer.  However, if you are going to be "sharing" a role amongst several people (e.g. maybe a timekeeper role where one person is doing Thu-Fri and your spouse is doing Sat) then only fill on the form once.  This is to ensure that we get an accurate count of which roles are filled.
THANK-YOU from the bottom of out hearts for being a part of bringing this tournament to Ottawa and providing such an amazing hockey opportunity for special teams from around the world!
Sincerely,
The Capital City Condors
*note – to fill in the form multiple times in a sitting, please go here after each successful submission.  Don't hit "refresh", please.