Season 10 Awards Banquet tickets now available!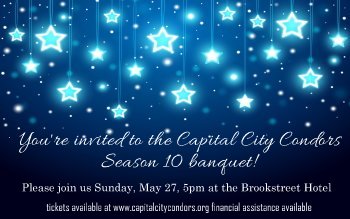 Condors players, families, friends and volunteers:
Please join us at our end of Season 10 Awards Banquet being held at the Brookstreet Hotel at 5pm on Saturday, May 26th, 2018.
Tickets for players and volunteers are free of charge. All others can enjoy a subsidized ticket at just $20 per person.
We hope you'll join us for an amazing evening of dinner, awards and dancing the night away! Tickets can be reserved and purchased here: Condors Season 10 Banquet